CURRENT PROPAGATION CONDITIONS.: Solar-terrestrial indices for 30 April follow. Solar flux 77 and estimated planetary A-index 5. The estimated planetary K-index at 2100 UTC on 30 April was 2. No space weather storms were observed for the past 24 hours. No space weather storms are predicted for the next 24 hours.
ALERT CONDITION: WHISKY ( WHITE )
Sunday, April 30, 2017 - 23:46 GMT - UPDATE # 48
OPERATIONAL FORECAST. - GEOMAGNETIC FIELD. The geomagnetic field is expected to be at quiet to unsettled levels throughout the forecast period (30 Apr-02 May) with isolated active periods likely on 01 May due to the influence of a positive polarity CH HSS. .- SOLAR ACTIVITY. Solar activity is expected to remain at very low levels throughout the forecast period (31 Apr-02 May).
G/S/R SCALES USED DEF'S USED LIGHTNING - (QRN)
---
HF OPERATIONAL BRIEFING - CURRENT CONDITIONS IN DETAIL
CURRENT SOLAR CONDITIONS
---
VISIBLE DISK
---
SOLAR MAGNETOGRAM
---
NEAR INFRARED
---
SUNSPOT TRACKING
Solar activity was at very low levels. Region 2653 (S09W39, Hrx/alpha) produced a long-duration B3 flare at 30/0012 UTC and an associated CME was observed in C2 coronagraph imagery beginning at 30/0236 UTC. Analysis of this event is underway in order to determine if the CME has an Earth-directed component.
---
RADIO BLACKOUTS - SOLAR STORMS - GEOMAGNETIC STORMS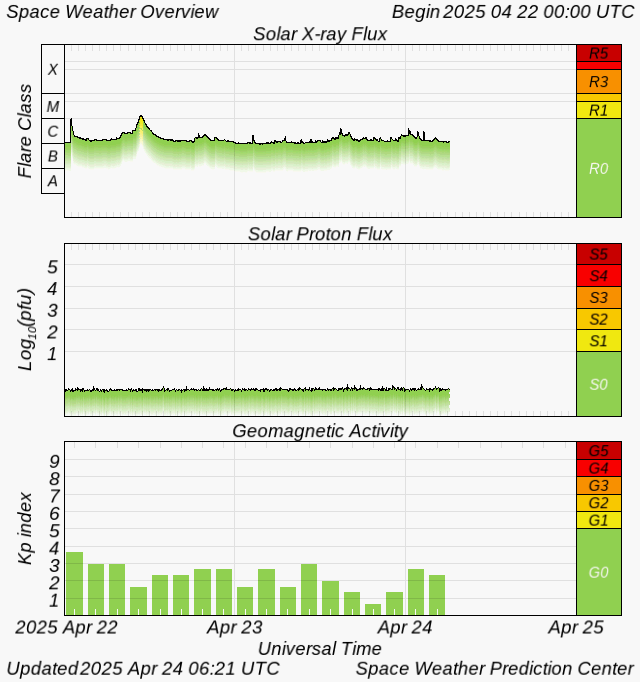 The geomagnetic field was quiet under a nominal solar wind environment.
---
"D" LAYER - HF ATTENUATION LEVELS
---
AURORA - NORTH POLE - SHORT PATH